Tired of tackling text books? Aggravated by apps? Want to improve your French by the most effective language-learning method out there? We invite you "chez nous" for a weekend of intensive French immersion in Brittany, France.
Mécontent des manuels scolaires ? Aggravé par les applications ? Vous voulez améliorer votre français par la méthode d'apprentissage la plus efficace qui soit ? Nous vous invitons chez nous à passer un week-end d'immersion française intensive en Bretagne, France.
Keen to prepare before your visit, or continue learning with us after the event? We offer lessons via Skype in an innovative, virtual classroom.
Aimeriez-vous vous préparer avant votre visite, ou continuer à apprendre avec nous après votre séjour ? Nous proposons des cours via Skype dans une classe virtuelle innovante.
Wondering whether our offers are for you? Check out the feedback from some of our past clients.
Vous vous demandez si notre offre est pour vous ? Consultez les commentaires de nos anciens clients.
Weekend Immersion Courses
Cours d'Immersion du Week-End
Immerse yourself in the French language during a weekend in the medieval Breton towns of Vannes , on the Gulf of Morbihan or Vitré , close to Rennes .
Immergez-vous dans la langue française lors d'un week-end dans les villes médiévales bretonnes de Vannes , sur le Golfe du Morbihan , ou Vitré , près de Rennes .
Friday night "apéritif" on the town is followed by two days of courses. Enjoy excursions, lessons and home-cooked meals with your French tutors.

L'apéro du vendredi soir en ville pour faire connaissance est suivi par deux jours de cours. Profitez d'excursions, de leçons et de repas faits maison avec vos professeurs de français.

We tailor our courses to your specific needs. Want to visit fairytale castles, enjoy the Saturday market or learn practical French whilst paddle-boarding, kayaking or biking? We're happy to oblige.

Nous adaptons nos cours à vos besoins spécifiques. Envie de visiter des châteaux de contes de fées, de profiter du marché du samedi ou d'apprendre le français pratique en faisant le stand up paddle, en kayak ou en vélo ? Nous pouvons vous rendre service.

We offer airport/ferry transfers, and for weekends in Vitré, accommodation in our heritage-listed house. We can also recommend a range of good hotels.

Nous proposons des transferts aéroport / ferry et, pour les week-ends à Vitré, l'hébergement dans notre maison de patrimoine. Nous pouvons également vous recommander quelques bons hôtels.
Would you like more information on our prices and availability? Find our more.
Souhaitez-vous connaître nos tarifs et nos disponibilités ? En savoir plus.
Skype Lessons
Cours par Skype
One-to-one French tuition from a Daefle -trained, native French-speaking teacher with over 21 years experience. Learn in a virtual classroom powered by Skype and Miro .
Cours particulier de français avec une Professeure de français de français langue étrangère , avec plus de 21 ans d'expérience en enseignement. Apprendre dans dans une salle de classe virtuelle fonctionnant avec Skype et l'application Miro .
Start with a free 30 minute trial lesson. We'll assess your level of French, discuss your goals and prepare a personalised lesson plan. Commencez avec une leçon d'essai gratuite de 30 minutes. Nous évaluerons votre niveau de français, discuterons de vos objectifs et préparerons un plan de leçon sur mesure
Paid lessons last for 1 hour each and begin with revision of the previous lesson. Les leçons payantes durent 1 heure chacune et commencent par la révision de la leçon précédente.

Lesson materials are viewed in your browser window with your teacher's annotations being visible in real-time.

Les supports pédagogiques sont affichés dans la fenêtre de votre navigateur, les annotations de votre enseignant étant visibles en temps réel.

All teaching support materials and lesson summaries are stored securely on our server and can be accessed at any time via your account. Your homework exercises can also be uploaded for discussion with your tutor.

Tous les supports pédagogiques et les résumés des leçons sont stockés et sécurisée sur notre serveur et peuvent être consultés à tout moment via votre espace client. Vos devoirs peuvent également être téléchargés pour une discussion avec votre professeur.
Interested in how it works? Check out sample lesson materials and request a free trial.
Intéressé par comment ça function ? Consultez des exemples de matériel didactique et demandez un essai gratuit.
Applying for French citizenship? We can prepare you for the TCF ANF French language examination. You can also test your knowledge of French culture using our free "Livret du Citoyen" quiz.
Vous demandez la nationalité française ? Nous pouvons vous préparer à l'examen de langue française du TCF ANF . Vous pouvez également tester vos connaissances de la culture française grâce à notre quiz gratuit.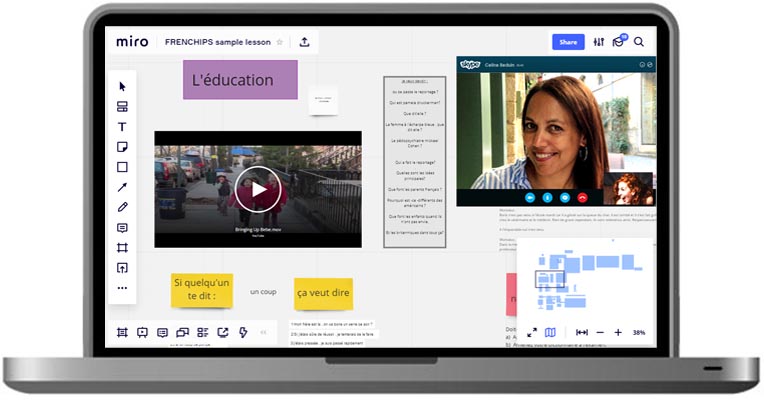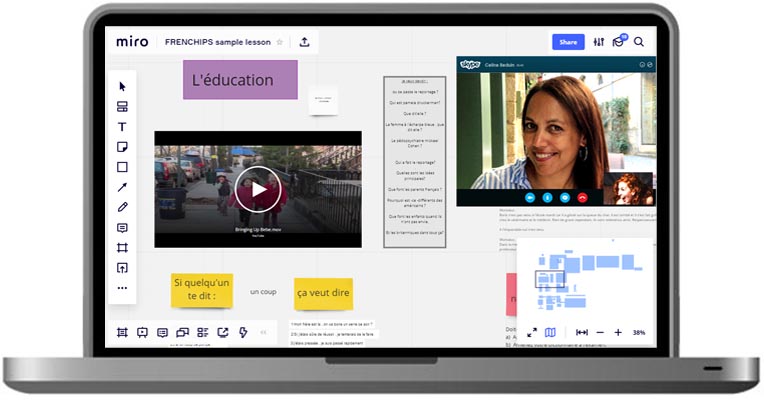 Tariffs
1x 60 Minute Lesson
1x Cour de 60 minutes
25 €
10x 60 Minute Lesson
10x Cours de 60 minutes
225 €